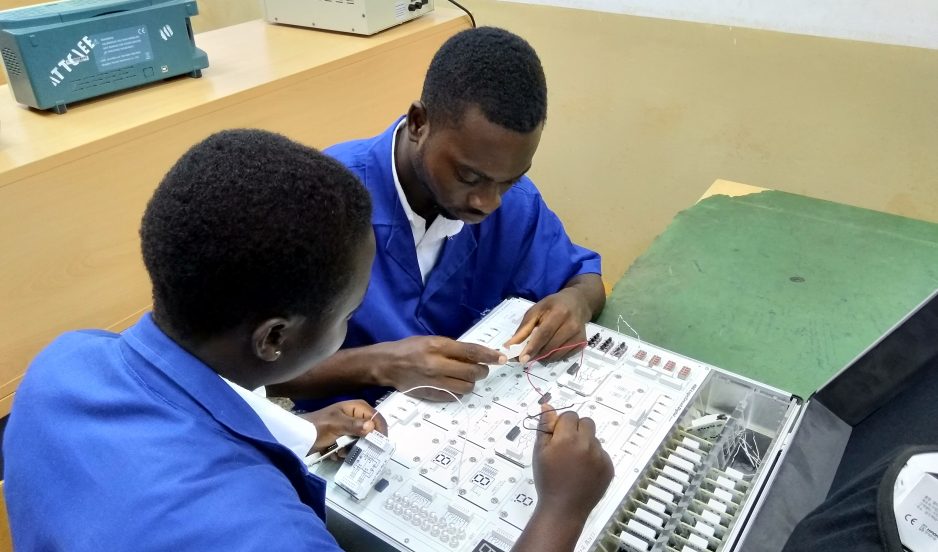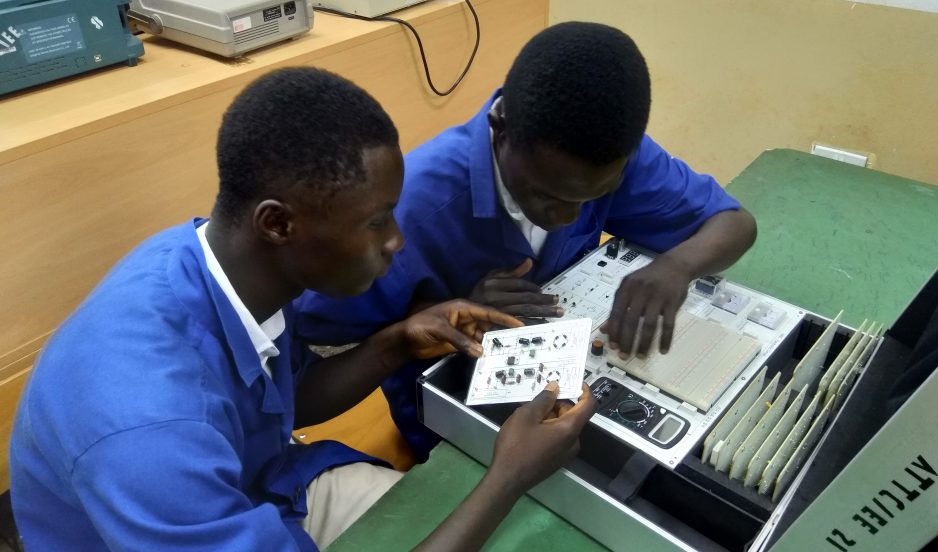 Radio, Television and Electronics courses designed to train students who intend to qualify as Technicians in Radio, TV and Electronics Industry.
Its purpose is to provide suitable preparation for students, apprentices and other categories of trainees who are aspiring to attain positions involving work in process control, radio and TV, Electronic plant maintenance, transmission and other form of responsibility in the Radio, TV and Electronic Industry.
ELECTRONIC SERVICING PART 1
HEALTH AND SAFETY: Regulations of the health and safety at work, electrical safety, use of manual and powered tools, accident prevention, fire prevention and fire extinguisher.
ELECTRONIC UNITS: Standard systems, Amplifiers, and Videos differential. Oscillators, Modulators, demodulators, Filers, power supplies, wave shaping, Logic, Transducers and Display units.
TRANSMISSION: Amplitude, frequency and pulse modulation, sidebands, bandwidth, depth of modulation, modulation index and deviation. Speech, music, radio and light frequency spectrum. Propagation of sound and electromagnetic waves.
ELECTRICAL SUPPLIES: Energy and their conversion A.C and D.C. Primary and secondary cells.
RESISTANCE AND ELECTRICAL UNITS: Insulators and conductors, Resistance, Electrical Unit, Ohm's law, resistivity.
MAGNETISM: Magnetic field patterns, simple coils and transformer.
ELECTROSTATIC AND CAPACITANCE: Capacitors, capacitors in series and parallel.
INSTRUMENTS: Ammeter, volmeter, ohmmeter, signal generators, cathode-ray oscilloscope and insulation tester.
CERTIFICATION: RADIO, TV AND ELECTRONICS TECHNICIANS PART I
CONDUCTED BY TECHNICAL EXAMINATION UNIT OF G.E.S.
PROGRESSION: RADIO, TV AND ELECTRONICS TECHNICIAN PART II
ELECTRONICS SERVICING PART II SEIMCONDUCTOR DIODES AND APPLICATION.
Signal power, zener diodes, LED, photo diode, varicap diode half-wave and full-wave rectifier circuit, clipping, damping and d.c restoration circuits, Diode amplitued demodulator circuit.
TRANSISTORS: Bipolar, field effect and unjuction transistors.
VOLTAGE AMPLIFIERS: Single stage, resistive loaded and tuned amplifiers class A, bias, multistage circuit, coupling, feedback, bandwidth and gain.
POWER AMPLIFIERS: Transformer coupled complementary symmetry, A.C and D.C feedback. The decibel and half-power points.
CATHODE RAY TUBE: Electromagnetic and electrostatic deflection. Focusing, brightness vertical/horizontal controls etc.
OSCILLATORS: A.C positive feedback, Hartley, colpitts, tunes load, crystal and R.C phase shift.
MULTIVIBRATIONS: A stable, monostable and disable, triggering and steering diodes, saw tooth generator.
L.C.R. CIRCUIT: Resistance, inductance and capacitance in D.C and A.C circuit. Series resonance, parallel resonance.
RADIO (AM AND FM)
Front-end block diagrams, varicaptuning, I.F and bandwidth a.m. and f.m demodulator circuits.
TELEVISION FUNDAMENTAL
Scanning, vision and sound, colour triangle for additive mixing, luminance and color difference signals, vision demodulator circuit, buffer amplifier, Y/RGB amplifier circuit.
AERIALS
Aerial dipole, Yagi arrays and coaxial feeders
CERTIFICATION: RADIO, TV AND ELECTRONIC TECHNICIANS PART II
PROGRESSION: RADIO, TV AND ELECTRONIC TECHNICIANS PART III